NV Cargo Commercial Incentive Program
The Nissan Commercial Incentive Program is designed specifically for business owners who use commercial vans
as an integral part of their business. Eligible customers can choose from valuable offers that are available when
you purchase or lease an eligible Nissan
NV1500
,
NV2500 HD
or NV300 HD Cargo van.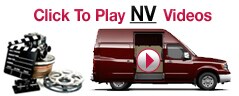 No-Charge Commercial
Upfit Packages from
Adrian Steel® [*]

The No-Charge Commercial Upfit Incentive offers you the choice
of two packages to pick from for your standard or high roof van.

NV Cargo Management Package

This package provides the flexibility to conveniently store cargo
and includes:

A steel cabin/cargo partition
Three 44-inch shelving units (two driver side and one
passenger side
Rail-mounted installation for easy package reconfiguration
A four-hook bar to provide hanging storage

NV Cargo Utility Package

This package provides the convenience of carrying cargo and ladders
and includes:

A steel cabin/cargo partition
A utility rack mounted on the exterior on standard roof models
and an interior ladder rack on high roof models

A local authorized Adrian Steel distributor will install the base package
of your choice at no cost. Additional Adrian Steel accessories
are available and can be ordered and installed at an additional cost.

No-Charge Graphics
Package [*]

______________________________________________________

This package allows approximately 70 square feet of graphic material
to create a customized exterior design that will be installed at no charge.

The graphic design can include logos, business contact information
and unique slogans ? virtually anything you can imagine to help
promote a business. The graphics package includes:

Professional creative design time with a graphic
design supplier to create the exact look you want
Production of customer-approved graphic design
Local installation by a certified graphics installer



$700 Commercial
Cash Back [*]

____________________________________________________

This option allows eligible customers to take advantage of a
$700 incentive. Refer to a Dealer for program rules and complete
guidelines surrounding $700 commercial cash incentive restrictions.

Disclaimer
*NV incentives are available only to a commercial business. Subject to verification and eligibility requirements see your NCV Dealer for details. Offer valid only for 2012 model year NV.